Today, we are going to share with you guys an easy make-ahead keto lunch that is perfect to bring to work (or eat for dinner later!). Which is from Stephanie Pedersen, author of Keto Lunches: Grab-and-Go, Make-Ahead Recipes for High-Power, Low-Carb Midday Meals.
This keto-friendly version of the trendy Hawaiian dish does not use raw fish, which may not store well in your office refrigerator. Instead, it uses cooked salmon or tuna—or any leftover seafood or protein you may have in your refrigerator.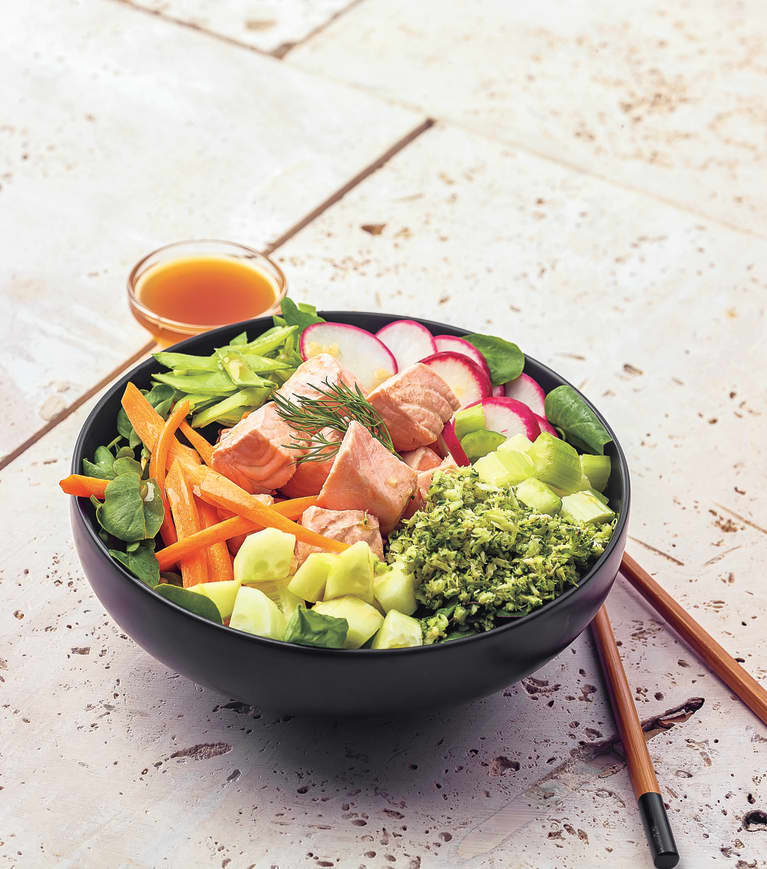 Makes 2 servings
Ingredients
1 tablespoon rice wine vinegar
2 tablespoons sesame oil
1 teaspoon fish sauce
Salt and pepper, to taste
2 cups cooked broccoli rice
1 English cucumber, peeled and chopped
1 celery stalk, chopped
1 cup sliced snow peas
2 radishes, sliced
1 carrot, peeled and shredded
1 cup watercress or other green
2 cups cooked salmon, cut or flaked into bite-size pieces
OPTIONAL: 2 tablespoons chopped cilantro, parsley, or dill
In a small bowl, whisk together the vinegar, oil, fish sauce, salt, and pepper. Set the dressing aside.
To assemble the bowls: Divide the broccoli rice between two sealable containers. Layer the cucumber, celery, snow peas, radishes, carrot, and watercress, dividing between the two containers.
Drizzle the dressing over the contents of both containers.
Divide the fish between the two containers, placing it directly on top of the dressed vegetables.
Sprinkle the herbs, if using, over the top of each container, before sealing each with a lid. Place in the refrigerator for up to 2 days.
Source from: mindbodygreen, Written by Liz Moody Food Director